Attention A T users. To access the menus on this page please perform the following steps. 1. Please switch auto forms mode to off. 2. Hit enter to expand a main menu option (Health, Benefits, etc). 3. To enter and activate the submenu links, hit the down arrow. You will now be able to tab or arrow up or down through the submenu options to access/activate the submenu links.

War Related Illness and Injury Study Center
Research Updates

Dr. Mike Falvo and WRIISC colleagues had two abstracts accepted for the American College of Sports Medicine 2020 Annual Conference:
Characterizing the Bioenergetic Profile of White Blood Cells for Utility In Assessing Mitochondrial Dysfunction In Gulf War Illness .
Pulmonary capillary blood volume and membrane conductance in Iraq and Afghanistan Veterans with deployment-related exposures .
Click here to read the abstracts.
Dr. Kelly McCarron and WRIISC colleagues had an abstract accepted for the Institute of Functional Medicine's 2020 Annual Conference titled, "Culturally-Responsive Whole Health for Veterans: Mapping Social Determinants of Health onto the Functional Medicine Matrix".

Click here to read the abstract.



Dr. Mike Falvo and colleagues had six abstracts accepted for the American Thoracic Society's 2020 International Conference:
CT-Parametric Response Mapping Identifies Four Radiographic Signatures in Small Cohorts of Post-9/11 Veterans with Chronic Bronchiolitis and Symptomatic Veterans with Gulf War Veterans Illness.
Self-reported sleep apnea among Female US Servicemembers in the Airborne Hazard Open Burn Pit Registry.
Examination of Insomnia and other sleep conditions among deployed US Servicemembers.
Comparison of measured versus calculated maximum voluntary ventilation for determining ventilatory limitation in Veterans with unexplained dyspnea.
Physician verified blast exposure is associated with small airway dysfunction in Iraq and Afghanistan Veterans.
Evaluation of the 2019 ERS Task Force Guidelines for FOT Measurement Replication.
Click here to read the abstracts.

Dr. Mike Falvo and colleagues from Rutgers collaborated on an abstract for the 2020 Nitric Oxide Society Meeting titled, "Inflammatory status and vascular function in veterans of burn pit exposure". In this abstract, they discuss their work with veterans of the Southwestern Asia theater of war who were exposed to smoke from burn pits and the increase in reports of shortness of breath despite normal pulmonary function tests.

Click here to read the abstract.

Dr. Lisa McAndrew and colleagues will be presenting four abstracts at the 41st Annual Meeting & Scientific Sessions of the Society of Behavioral Medicine, April 1-4 in San Francisco, CA:
Veteran Beliefs About the Causes of Gulf War Illness and Expectations for Improvement.
TBI and Chronic Multisymptom Illness among Gulf War Veterans: A call for better identification.
Treatment of patients with chronic pain at risk for suicide: Room for innovative approaches.
The Importance of Concordant Perceptions of Persistent Physical Symptoms: A Study of Gulf War Veterans and their VA Health Care Providers .

Click here to view the abstracts.
Towards the objective assessment of suicidal states: Some neurocognitive deficits may be temporally related to suicide attempt
Click here for a graphical description of findings.

Click here to read.
Neurocognitive detection of suicidal states has the potential to significantly advance objective risk assessment. This goal requires establishing that neurocognitive deficits fluctuate around the time of a suicide attempt. The current study therefore evaluated whether neurocognitive performance is temporally related to suicide attempt, in a sample at high risk for suicide (n = 141). Evaluations consisted of a clinician-administered interview, self-report questionnaires, and neurocognitive tasks assessing response inhibition, attentional control, and memory recognition. Analyses examined whether neurocognitive scores significantly differed according to the following temporal suicide attempt categories: (a) past-week attempt; (b) past-year attempt (not in past week); and (c) no past-year attempt. Univariate results showed that response inhibition and memory recognition were significantly related to suicide attempt recency. Post-hoc pairwise tests showed that participants with a past-week suicide attempt showed greater impairments than those without a past-year attempt. Multivariate tests showed the same pattern of results, adjusting for age, suicide attempts prior to past year, mood disturbance, and suicidal ideation. These results show that neurocognitive assessment of response inhibition and memory recognition shows sensitivity to the recency of a suicide attempt. While future prospective studies are needed, results suggest that phasic neurocognitive deficits may serve as objective markers of short-term suicide risk.
Mental Health Conditions and Hospitalizations for Ambulatory Care Sensitive Conditions Among Veterans with Diabetes
Click here for a graphical description of findings.

Click here to read.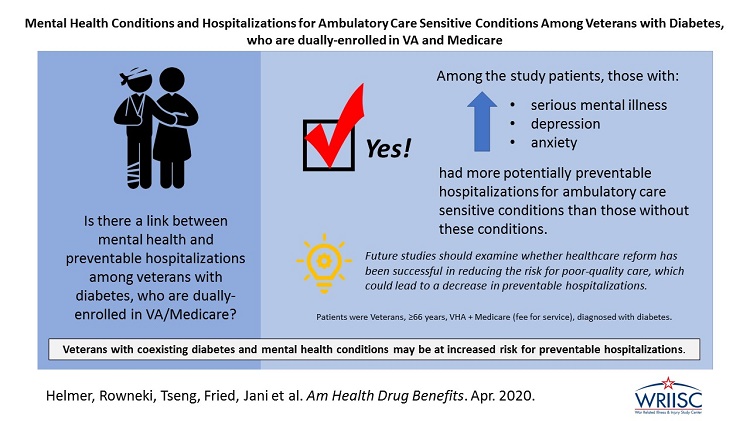 Veterans with diabetes and mental health conditions have a higher risk for suboptimal care and complications related to their diseases than veterans with diabetes who do not have mental health conditions. Among the dual VHA/Medicare-enrolled veterans with any hospitalization in 2010, 30% had hospitalizations for ACSC. Veterans with diabetes and co-occurring depression were at increased likelihood to be hospitalized for ACSC, after adjusting for all other covariates. Similar findings were observed for anxiety. Veterans with serious mental illness were as likely as veterans without serious mental illness to be hospitalized for ACSC. THe conclusion was that Veterans with depression and anxiety were more likely to be hospitalized for any or acute ACSC than veterans without mental health conditions. Patients hospitalized for acute ACSC were more susceptible than patients hospitalized for chronic ACSC to have mental health conditions. As the VHA continues to evolve from care provider to community care payer (per the Veterans Affairs MISSION Act), our results highlight the ongoing importance of care coordination and communication between payers and providers.
Exercise-Induced Bronchoconstriction in Iraq and Afghanistan Veterans with Deployment-Related Exposures
Click here for a graphical description of findings.

Click here to read.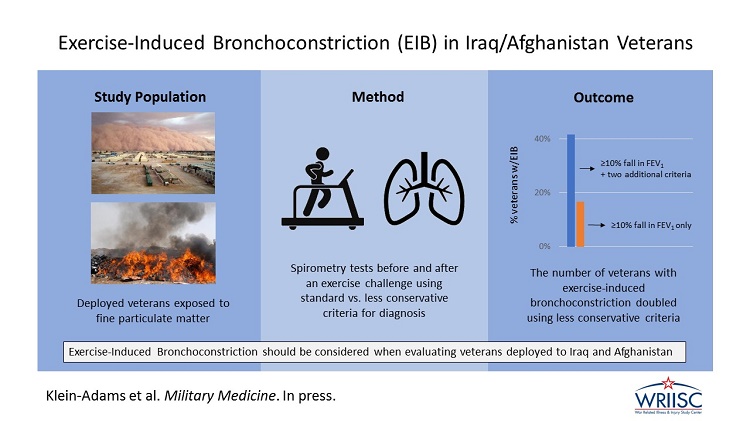 Previous studies have suggested that deployment to Iraq and Afghanistan is associated with an increased risk of respiratory symptoms and illness post-deployment. Shortness of breath during exercise is commonly reported by Veterans following these deployments and may be suggestive of exercise-induced bronchoconstriction (EIB). We hypothesized that a subset of Veterans without underlying pulmonary disease would have exertional symptoms which may be attributable to exercise-induced airway narrowing. 24 Veterans volunteered for the study. We defined EIB as a 10% drop after exercise in forced-expiratory volume in 1 second (FEV1). We also explored the possibility of individuals who didn't meet the 10% drop in FEV1, but met two additional criteria which might be suggestive of EIB. Overall, 4 Veterans (16.7%) met the first, definitive criteria for EIB. Given that the prevalence of EIB in the general population without asthma is 20%, our finding of 16.7% is not much different. 42% of our sample, however, met the two additional criteria for probable EIB. This rate of probable EIB is elevated in comparison to the general population, as well as other military cohorts. This finding was concerning in that our sample did not have a history of pulmonary disease yet reported frequent lower respiratory symptoms. In conclusion, we found the rate of definitive EIB in our sample of Veterans to be similar to the general population, but exploratory analyses using less conservative criteria demonstrated a rate double that. Future studies are necessary to support the role of exercise challenge testing for evaluating deployed Veterans.
Post-Exertional Malaise in Veterans with Gulf War Illness
Click here for a graphical description of findings.

Click here to read.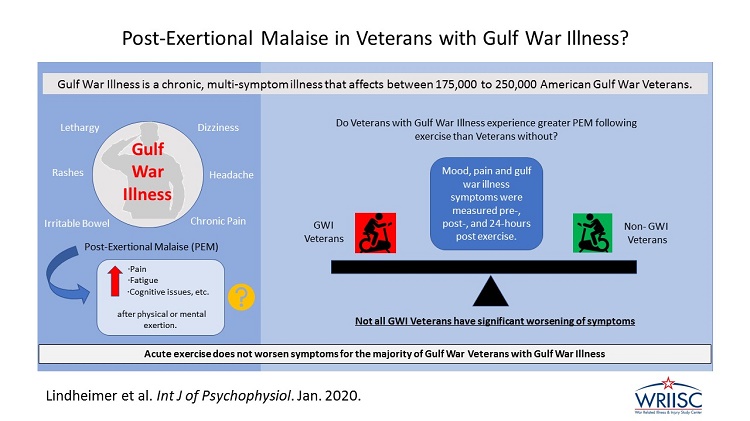 Post-exertional malaise (PEM) is a potentially debilitating aspect of Gulf War Illness (GWI) that has received limited research attention. The purpose of the present investigation was to determine symptom severity changes following exercise in Veterans with GWI compared to control Veterans without GWI (CO). Sixty-seven Veterans (n = 39 GWI; n = 28 CO) underwent a 30-minute submaximal exercise challenge at 70% of heart rate reserve. Symptom measurements (e.g. fatigue, pain) occurred pre-, immediately post-, and 24-hour post-exercise. Self-reported physical and mental health, and physiological and perceptual responses to exercise were compared between groups. Veterans with GWI reported significantly lower physical and mental health. Groups exercised at similar relative exercise intensities, but GWI perceived exercise as more painful and fatiguing. Group-by-Time interactions were not significant for the entire sample for the three PEM models, however limiting the GWI sample to "PEM endorsers" resulted in significant interactions for Pain- and GWI-related PEM models. These results indicate that not all GVs with GWI experience PEM 24 hours after exercise, and that more research is needed to determine the extent that exercise worsens symptoms in GWI.
Doctor Recommendations are Related to Patient Interest and Use of Behavioral Treatment for Chronic Pain and Addiction
Click here for a graphical description of findings.

Click here to read.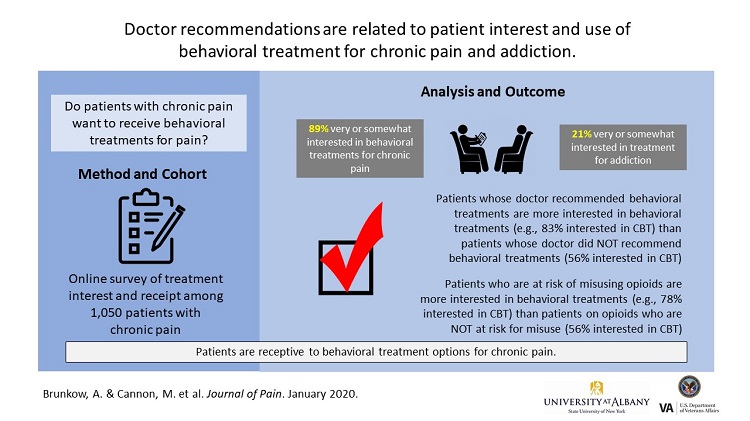 Chronic pain is a disabling health condition that affects many Americans. Chronic pain is sometimes treated with opioid pain medication, but problems with this treatment include lack of evidence of long-term benefit and risk of addiction and overdose. Given the epidemic of opioid overdoses, behavioral, non-medication therapies (like cognitive-behavioral therapy, health coaching, and other treatments) are the treatments of choice for chronic pain, but we do not know whether patients want to receive these. This study was an anonymous online survey of over 1000 people with chronic pain. Participants were asked whether they had used, were interested in, or been recommended a range of behavioral treatments or medication for chronic pain and addiction. This study found that patients are interested in non-medication treatment options for chronic pain, including those who may be at risk for misusing opioids. Patients who received treatment recommendations from their doctors were more likely to be interested in receiving those treatments than patients who did not receive treatment recommendations. Study findings highlight the association between doctor recommendation and patient interest and receipt of a treatment. Doctors are encouraged to discuss the many non-medication treatment options for chronic pain management with their patients rather than assume patients prefer to treat chronic pain solely with medication.
Are Common Sense Model constructs and Self-Efficacy Simultaneously Correlated with Self-Management Behaviors and Health Outcomes: A Systematic Review
Click here for a graphical description of findings.

Click here to read.
In this study we reviewed research articles to understand how two health psychology theories – the Common Sense Model and self-efficacy – were related to health outcomes (like quality of life) and health behaviors (like taking medication). We did this review because the theories are used a lot in health psychology research, but no one had studied whether both theories were useful when included in the same statistical models. The Common Sense Model is a theory that describes how people understand health conditions. It suggests they use information like the name of the condition, its symptoms, its cause, its consequences, how long they might have the condition, and whether or not the condition can be controlled. Self-efficacy is a theory that suggests people are more likely to do a behavior, like exercise, if they are confident that they can be successful. The idea of self-efficacy is not specific to health, but it is used in a lot of health research. After reading over 100 papers, we included 25 studies in the review. Those studies included 55 statistical models. We found that both the Common Sense Model and self-efficacy were related to health outcomes and health behaviors. The Common Sense Model was related to health outcomes more often (in 73% of models). Self-efficacy was related to health behaviors more often (in 76% of models). We concluded that researchers should continue to use both the Common Sense Model and self-efficacy in health psychology research because both provide useful information.
Coping with Medically Unexplained Physical Symptoms: The Role of Illness Beliefs and Behaviors
Click here for a graphical description of findings.

Click here to read.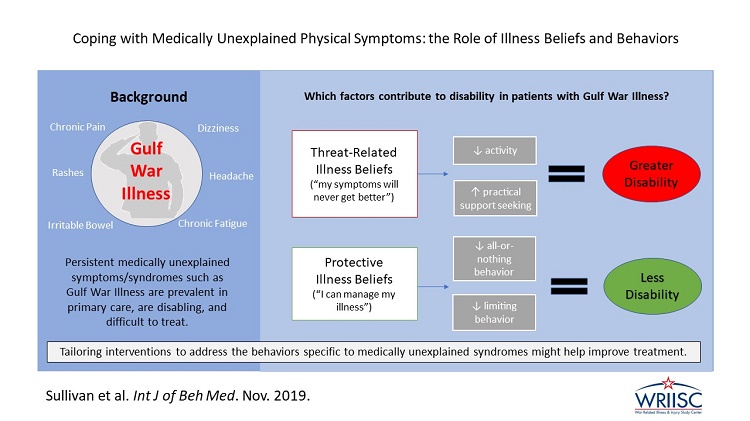 Medically unexplained syndromes (MUS) are both prevalent and disabling. While illness beliefs and behaviors are thought to maintain MUS-related disability, little is known about which specific behavioral responses to MUS are related to disability or the way in which beliefs and behaviors interact to impact functioning. Threat-related beliefs predicted greater disability through decreased activity and increased practical support seeking. Protective beliefs predicted less disability through reductions in all-or-nothing behavior and limiting behavior. These outcomes suggest that all-or-nothing behavior, limiting behavior, and practical support seeking are important in the perpetuation of disability among those with MUS. This has implications for improving MUS treatment by highlighting potential treatment targets.
Progression of Intervention-Focused Research for Gulf War Illness
Click here for a graphical description of findings.

Click here to read.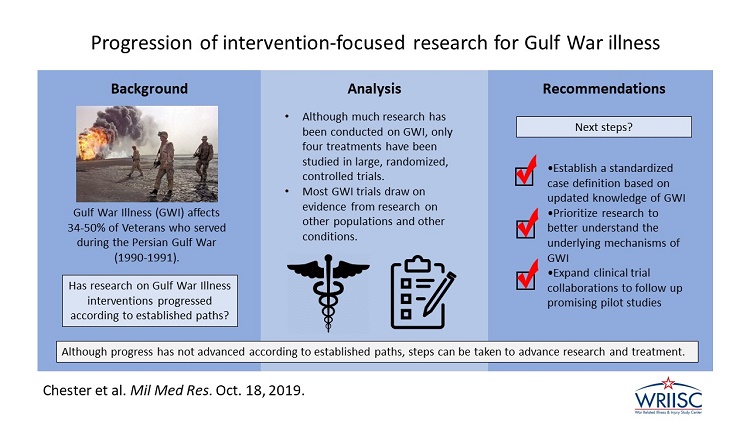 Gulf War Illness affects an estimated 34-50% of Veterans who served during the Persian Gulf War. Our study summarizes the progress of research on treatments for Gulf War Illness. Although much research has been conducted on Gulf War Illness to date, there are few effective or specific treatments that are strongly supported by evidence. Currently, most of the treatments that have been tested for Gulf War Illness in clinical trials have been complementary or alternative medicine and/or over-the-counter supplements that are effective in treating other diseases with similar symptoms. We believe that establishing a standardized case definition for Gulf War Illness, prioritizing research aimed at discovering the physiological/biological basis of the condition, and rapidly verifying/expanding single-site clinical trials should help to advance the progress of research and the discovery of effective treatments for Gulf War Illness.
Impact of presumed service-connected diagnosis on the Department of Veterans Affairs healthcare utilization patterns of Vietnam-Theater Veterans
Click here for a graphical description of findings.

Click here to read.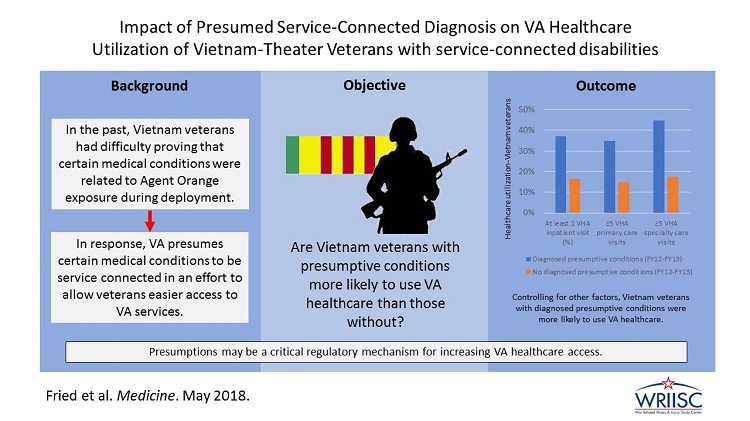 During the Vietnam War, the US military sprayed almost 20 million gallons of Agent Orange (AO), an herbicide contaminated with dioxin, over Vietnam. Approximately 2.7 million US military personnel may have been exposed to AO during their deployment to the theater. Ordinarily, Veterans who can demonstrate a connection between a diagnosed medical condition and their military service are eligible for Department of Veterans Affairs (VA) service-connected disability compensation. However, Vietnam Veterans have had difficulty establishing a connection between AO exposure and certain medical conditions that developed many years after the war. In response, VA has designated certain conditions as "presumed service connected" for Vietnam Veterans who were present in theater and possibly exposed. Veterans with any of these designated conditions do not have to document AO exposure, making it easier for them to access the VA disability system. The data from this study revealed that Vietnam Veterans with presumptive conditions used significantly more VA medical care services in 2013 than those without presumptive conditions. Findings highlight the potential role of federal legislation in reducing barriers to VA healthcare, among Veterans with service-connected disabilities.
Disclaimer
*Links will take you outside of the Department of Veterans Affairs Website. VA does not endorse and is not responsible for the content of the linked websites.
return to top